Praise for Lavina
"A Louisiana town in the heat of summer and the civil rights era is home to Mary Jacob, a young girl born to white privilege but an outsider in that world. Despised by her family, she spends her days with Lavina, the family's black maid. Lavina's son, Billy Ray, is a gifted musician and at 15 begins to draw the success at local venues that will transform into stardom. Thirty years later, Mary Jacob's father is dying, and she leaves her New York City life and returns to her childhood home. Billy Ray, now a legend, is playing the local club that gave him his start. Both are drawn to revisit the day Lavina was shot at a sit-in, when their lives changed forever.
Verdict: Marcus (The New Me) has written a novel of weight and heart. Forthright in chronicling harrowing conditions of the era and Southern setting while not succumbing to stereotypes, she reveals the complexities of humanity and demonstrates a keen ear for the music of language in the individual voices of her characters. Lovers of The Help and civil rights–era literary fiction will enjoy this book."
—Library Journal, Shannon Greene, Greenville Technical Coll. Lib., SC
"When Mary Jacob is called home to Louisiana to tend to her dying father, all of her old heartaches and humiliations return, despite the fact that she has built a new life for herself in New York. She has always felt like an outsider in her own home, closer to Lavina, the black housekeeper who virtually raised her, than to her own flesh-and-blood white family. As she struggles to achieve rapprochement with her mean spirited southern belle of a sister and her racist father, she is overwhelmed by memories of the tragic incident that has haunted her for decades, although she can barely remember the details. Also in town is Billy Ray, Lavina's talented musician son who went on to achieve superstardom.
Marcus' well-crafted, highly accessible novel can readily be compared to The Help, by Kathryn Stockett (2009), for its recognition of the lot of black domestic servants. However, there is one major difference, and that is the way Marcus writes about the creative impulse. Billy Ray's descriptions of his music making are both wondrous and joyful. "
— Joanne Wilkinson, Booklist Issue: April 15, 2015
"Thoughtful fiction that once again exposes the dark enigma of America's racist past and present"
— Kirkus Review
"Lavina is one of the best books I've read in a long time. Mary Marcus gives distinctive voice to three engaging characters, bringing our compassion and sympathy to each of them as she deftly unravels their complex story of heartache, courage, and love."
– Diane Chamberlain, international bestselling author of Necessary Lies
"Lavina is a richly nuanced journey to Louisiana during the civil rights era and contemporary times that encompasses the liberating but pain-filled emergence of R&B and rock and roll. Mary Marcus has a mystical insight into the agony and ecstasy of the creative process and the lives of performers. She also unflinchingly brings alive the insane disparity of lives of rich and poor, and black and white, and sees both the pain, the cruelty and also the love and richness of the South."
– Danny Goldberg, author of Bumping into Geniuses
"Lavina is a taut simmering and thoroughly southern work of art. Prepare to lose yourself in this thrilling novel, beautifully crafted by the awesomely talented Ms. Marcus."
– Robert Tate Miller, author of Forever Christmas
"Mary Marcus' Lavina is a sprawling, passionate Southern Gothic nightmare which beautifully depicts the transformative power of musical creation. Billy Ray jumps from the page as a living, breathing embodiment of Louisiana's Black roots music."
– Blake Leyh, Emmy Award-winning music supervisor of The Wire and Treme
Praise for The New Me
"The New Me by Mary Marcus is a revelation. Like Joan Didion, she brings to life the nuance and emotion of a sometimes-dysfunctional family life in Southern California with a jaundiced view of Hollywood in her peripheral vision. Like William Carlos Williams she knows that precise observation of details can illuminate great depth. Part baby-boom prose poem, part woman's re-birth, The New Me is alternately hilarious, and heartbreaking and ultimately hopeful. What a cool first novel."
-Danny Goldberg, author of Bumping into Geniuses
"The New Me is funny, poignant and deftly written. It is a relatable story that beats with a pulse of a modern marriage paradigm and provides cringe-worthy moments that simultaneously delight and distress. This book made me uncomfortable in all the best ways. I couldn't put it down."
-Moira Walley-Beckett, Writer/Co-Executive Producer of Breaking Bad
"Have you ever worried you could be replaced by another woman? Have you ever secretly hoped that you might be? Is eighteen years of making dinner every night enough already? These questions haunt the irresistible chef/wife/mother Harriet Prince in Mary Marcus's funny, heartbreaking and thriller-paced novel, The New Me. Marcus serves up the humor and sadness in a threatened empty-nest marriage and reminds us that for even the best cook, endings can be bittersweet."
-Delphine Hirsh, author of The Girls' Guide to Surviving a Breakup "
In The New Me, Mary Marcus tells a clever and engaging tale of the intertwined lives of transplanted modern city-dwellers, which not only illuminates surprising dimensions of our all-too-human strengths and frailties but how the path to self-discovery is seldom what we expect."
-Bran Ferren, Founder, Chief Creative Officer, Applied Minds, LLC
"Mary Marcus has created Healthy Harriet and her world with a sharp eye and robust humor. A great debut book parsing the complexities of love, married life, motherhood and betrayal."
-Alissa Torres, author of American Widow
"Mary Marcus expertly illuminates the world of a lived marriage in this inspired novel. With careful nuance and dark humor in her back pocket, she raises questions women might not dare ask themselves. The New Me will give the old you something to think about. A real treat."
-Rachel Eddey, author of Running of the Bride
The New Me
Lavina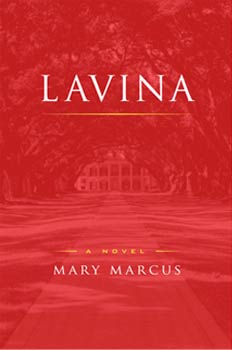 Amazon • Barnes & Noble • Books-a-Million • iBooks • Indiebound • Indigo • The StoryPlant