I started this when the first reports came in about Harvey. It's now a couple of weeks later, and Florida is under water. Harvey isn't tearing through Houston anymore, and both my son and I have made inquiries and learned my big sister and her house are safe and dry. I'm not thinking about her non-stop as I was for days.  One of her friends responded to an email I wrote, "I hope you connect, she hasn't been herself for a while."
Herself? I almost wrote back, "Did she go off on you too?"  But I didn't.
My big sister lives very close to Rice University and the splendid Rothko Chapel. When the first reports came out, I thought, if they say the Rothko Chapel is underwater, then she's underwater too.  
Once in a while, I go on FB and look at the two pictures of her. We didn't look so much alike when we were younger, but like long married people, we've grown more alike as time goes on. Ironic, because as adults we've spent almost no time together. Either a continent separated us, we were at war, which was most of the time, or at peace, which is how it's been for the past few decades or so when we've had absolutely nothing to do with one another:  not a phone call on either one of our birthdays, our parents yahzeit, an email, a snail mail, a Jewish New Year card, a valentine, though I've wondered as no doubt she has too, what the other one will do when one of us passes. Do I go to the funeral? Do I send flowers, a plate of food? These are the questions that beset the siblings who are as good as dead to one another, though the sibling rivalry lives on. Will the antipathy endure long after our spirits have left our bodies?
The last time I visited my sister, when we walked from her house to the chapel less than a mile away. I got up my courage and asked her, "Tell me about our father. What do you remember?"
She replied in a lifeless monotone. "You had a wonderful childhood. You were the happiest little girl and everyone loved you."
The rest of the visit she was about as warm as a day in the North Pole. That was okay. Icy and cold was far preferable than even the smallest dose of her temper. I returned home grateful the visit ended without blatant acrimony. My sister also possessed and probably still does, a great sense of humor. There are times when I'd give anything to have a laugh with her about stuff only she and I would get.
Shortly after that visit, she came to LA with her latest boyfriend whose family lived here. A friend and I threw them all a dinner party. And something must have happened at that party to trigger something in her again, or maybe she was still pissed about my mentioning our childhood. She left town and didn't call me again, though she wrote my friend an elaborate thank you and sent her a present. I didn't call her either. I was afraid to. I saw the look on her face at the door when they were saying goodbye.  That face was one I have feared since I have a memory.
Flash forward several years later:  my son and I are in New York over Christmas break. He's in college now. We are in our old neighborhood on the Upper West Side at Harry's, the best shoe store in the world!  I heard him say softly, our pet name for my sister. No shit!  And I turned around and there she was with the boyfriend!
She was very polite. And I'm happy to say she looked really good. Prosperous. Healthy. Maybe she even gave my son a hug. She did mention something about them getting together. They had, after all, once upon a time been close. He got dropped too after the last putsch.
The boyfriend muttered some conciliatory words. I stood frozen to my spot in front of a rack of Mephisto's. And such was her ancient power over me, I fully expected my son to walk off with them and to leave me standing alone among the suede boots, the high heels and the sensible flats.
But he didn't. We were both a little shaken. But we carried on. We bought him a pair of leather top siders. Big Sister and the boyfriend exited the store. My son and I went to Zabar's and bought goodies. And that was it.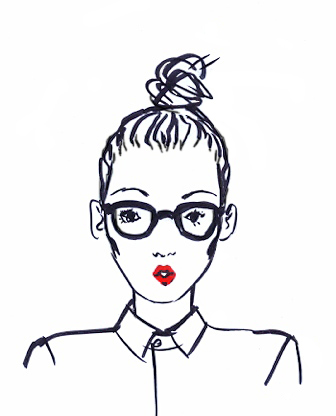 I am very grateful that like the Rothko Chapel my sister in Houston is safe and dry.
I wish her well, I sincerely do, though I am all but sure those feelings are not reciprocated. She once told me unashamedly in front of my husband and her then husband, "The day you were born was the worst day of my life! I hope you die."
For my own part, I was born, that was the big one, and after that, I wanted to know what happened. It ruined her obviously. Maybe she hates me because the unspeakable thing didn't ruin me.  
I think this is where men come out better than women. Maybe men carry baggage differently. When men go to war they come out brothers. They join arms; they march down the street carrying the flag. They rejoice in their memories. The Things They Carried and all that.
The childhood we shared was a war zone replete with causalities and trauma.  My sister and I though, all we ever wanted to do was forget.
Illustration by the fabulous Aimee Levy



by