I've been doing something like a meditation practice for a long time. I say something like because, although I've read plenty of books on the subject from different disciplines, and have a yoga practice of long standing where the meditation aspect often enters in, I've never formally studied with a teacher the way one is supposed to do if one is to learn something as esoteric as meditation.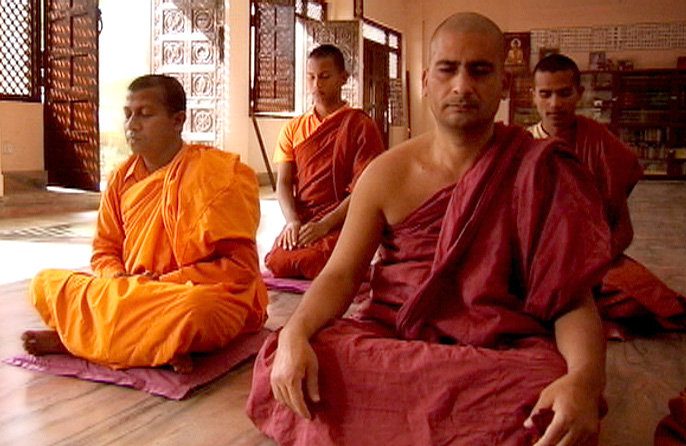 This prejudice against taking instruction on meditation is completely capricious, as I practically live at the nearby yoga studio here and even more so home in LA where the drive is far less picturesque. (It's hard to imagine somewhere with worse traffic than LA: but that's East Hampton, Amagansett–never mind the other hamlets in this region known as the Hamptons–in July and August.) I guess this is my karmic debt alas.
For a while, I was going to do TM because everyone who does it, swears by it, and I liked the idea of twice a day for twenty minutes but I didn't like the way I was hounded online after just one little cyber inquiry. I could mention a few other meditation cults I've contacted throughout the years, and I can genuinely say the same thing: not only did the usual fear of turning my mind over to the authorities enter in, I felt I was being marketed to. I was pitched morning noon and night if I inquired just once. And If I inquired twice, I was asked for my phone number, a credit card and a firm commitment.
Consequently for at least ten years, I've settled into my comfortable thirteen and sometimes twenty minutes of sitting as straight as I can on the floor on a cushion with my eyes closed and noticing my breath. And when some other thought enters in, returning to noticing my breath. It sounds moronically simple, but it's not.
I've learned a few little tricks at some of the yoga workshops and cleanses I've participated in over the years. One is alternate nostril breathing, which really does focus the breath. The other is exhaling rhythmically for eleven minutes (the later is a breath practice to relieve past anger and actually it really does! At least whilst the meditation is going on.)
For years and years now, it's what I do every morning before work. One of the above, and on especially bad mornings after troubled sleep, all of the above with the Loving Kindness meditation as a sort of secret weapon if things are really untoward in my world.
Unfortunately, just lately, my practice has fallen off. And I can feel its lack in my life. I have less patience. I am more tempestuous.  Less accepting of others and myself. And I notice I am more prey to self-pity, self-aggrandizement, the list goes on and on.
I was encouraged when I heard a Zen Buddhist monk the other night speak of the fact that when he's in New York, he still gives the finger to anyone who cuts him off in traffic.
After he confessed this, the monk gave the people sitting on cushions in front of him, one of his beatific monkish smiles. A man, I've noticed is able to get away with this sort of thing; where a woman, even a charming female Buddhist monk wouldn't. I think that's because the world is always more forgiving of a man who loses his temper than of a woman who does. I noticed this particularly when I used to be in a writing group. If a woman was getting pissed off in somebody's piece—especially if it was written by a woman—everyone in the room, both male and female would point out the off-putting anger aspect and dress the writer right down. This is, of course, a very big gender inequality issue. One worth investigating at length elsewhere.
I went to hear the monk because I was hoping he would inspire me to get back to my meditation practice, and he did! I've meditated each morning since then. And when I do, instead of paying attention to my breath, I'm distracted by the thought of the smiling monk, flipping someone off in midtown Manhattan. And also, since I'm having a hard time processing as everyone is, of Allen Ginsberg.
This week has been a doozie, hasn't it? Death, more death. Donald, more Donald and a coup d'etat in Turkey. I'm sure I'm missing many other horrific events. What the world needs now is love sweet love. And more poets like Allen Ginsberg. The link below is for his distracted meditation. (My thanks to Aimee Levy, for originally sending me this link.)



by